Beef
Grilled Porto' Burgers
---
Behind the Recipe
The Burger with a Crown-Cap
I work with some of the best BBQ chefs and cooks in St. Louis. Once in awhile, I take home things I learn from them and trick my wife and kids into thinking I'm a great cook! One day they made the most delicious Portobello mushroom caps I've ever tried. And, being I'm a burger guy I figured, why not put them together? And just like that, the Grilled Porto'Burger was born!
As seen on Beyond the Flame with Matt Martin.
Ingredients
2lbs 80/20 lean ground beef
6-8 burger buns, preferably buttered
6-8 Fresh Portobello mushroom caps
6-8 slices of American Cheese
½ cup of Italian Dressing
¼ cup Your Favorite Meat Rub
2 red onions
¼ cup olive oil
1 tsp of Kosher Salt and ½ teaspoon of finely Ground Black Pepper
2 tbsp. of a good quality Balsamic Vinegar
Preparation
---
Preheat your Nexgrill to 375 degrees. You want to split your grill into two heat zones by igniting one half of your burners, and leaving the remaining burners off.
De-stem Portobellos down to the cap only and dunk or cover them in Italian dressing. Then place them on one half of a baking sheet or a Nexgrill stainless steel grill topper.
Dust Portobellos with your favorite meat rub.
Cut the red onion into slices ¼ inch thick. In a small mixing bowl mix them with the olive oil, salt and pepper, and balsamic vinegar.
Place the saturated onion slices on the other half of the baking sheet next to the Portobello Caps and place on the hot side of the grill (the side with burners on)
While porto's and onions are baking, patty your burgers into ¼ lb to ½ lb patties.
Dust patties with salt and pepper.
Cook the portobellos and onions at 375º for 8-10 minutes.

Once the mushrooms and onions are nice and hot, shift them to the other side of the grill (without burners on) to keep warm. We are wanting to give them a good finish on the grill, without charring them too much. The Nexgrill topper is great for this!

With your main heat zone around 375-400º, place burger patties onto grill over direct heat.

Cook the burgers on each side for about 3-4 minutes. Flipping them halfway through.

After flipping your burger patties, place your burger buns on the top warming rack of your Nexgrill to give them a nice toasted finish. These should take only 2-3 minutes and be done after you've turned your burger patties.

Add your American Cheese to the tops of the flipped burgers and close the grill for the last 2-3 minutes.

It's almost chow time! Remove your toasted buns and put them on a serving plate. Top the base of the bun with a serving of the onions first, followed by the burger with melted cheese, and lastly the Porto Cap on top!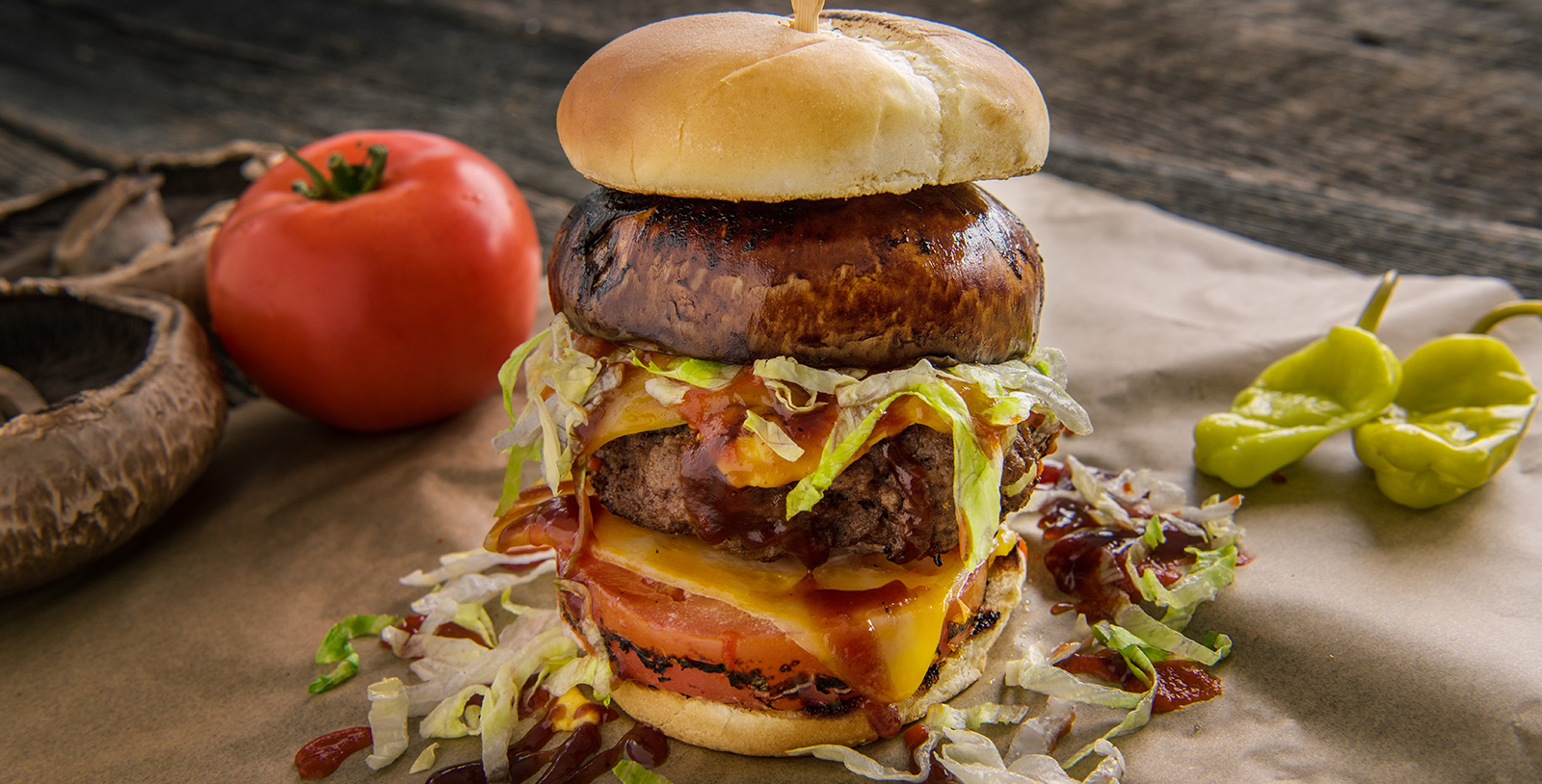 Try Pairing It With These Other Recipes
---
Everything You Need To
Make This Recipe
---