Celebrate variety
Good times and great food are ahead
#720-0888SA
5 Burner Gas Grill With Gourmet Plus Cooking System
This Nexgrill 5 Burner includes our exclusive Gourmet Plus™ cooking system with cast iron grids that you can grill with direct or indirect heat, bake sear, broil or smoke. 
The grill has a 68 x 44 cm cooking area with five main burners and one side searing burner.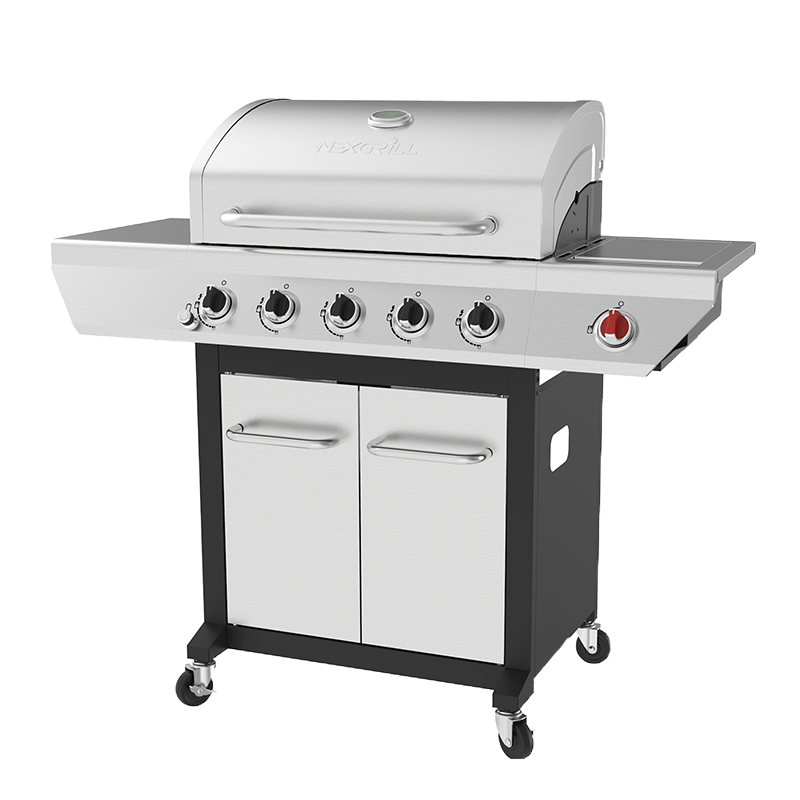 Prior to ignition
Get to know your Nexgrill
The Gourmet Plus Cooking System is the all-in-one of grilling. It consists of 4 distinct cooking methods you can use in conjunction with your grill. Both the Gourmet Plus Cooking System and the grid within your grill is made of cast iron. Cast iron is a low conductor of heat and will take long to heat up – once hot, it will retain heat for long without cold spots. This results in even heat and cooking long after the burners are switched off. Let's take a closer look at the Gourmet Plus Cooking System. It is a compact system that consists of two cast iron plates that fit into each other. The one plate is a combination of a sauté pan and griddle pan, while the other cast iron plate is a grid that fits on top. The Gourmet Plus Cooking System only takes up half of your grill space, the other half can be used for traditional or direct grilling. Now, you can experiment with any recipe on your grill, giving it extra smoky flavour.
No.01

Direct Grilling

Cast iron grids take a while to heat up, but retains heat extremely well when it's hot – leaving you with even heat across the grid without cold spots.

No.02

Sauté or pan fry

Eggs, bacon, stir fry veggies and even delicious Stroganoff is no trouble for the flat stunningside of the Gourmet Cooking System.

No.03

Sear or griddle

For striking sear marks, grill hamburger patties, steak or even Portobello mushrooms while you're cooking the rest of your food on the other side of the grill.

No.04

Smoke

Add your choice of wood chips to smoke fish, chicken, lamb roast or brisket. The rest of your food, even bread on the warming rack, will also absorb the smoke for a delicious feast.
There is more where that came from
Explore Grills
---