pork
Thai Marinated Grilled Pork Chop
---
Behind the Recipe
Cooking is a Canvas. Paint Your Story.
I'm a pretty simple person. I didn't set out to create a detailed recipe. I was just trying to connect with my roots. When I really began immersing myself in L.A. food culture, I started noticing just how many mashups and fusions were going on, but it's a weird kind of reverse fusion, where people are taking traditional American comfort foods and applying a twist from their heritage... Japanese-style burgers. Korean-inspired tacos. This, I decided, was going to be one delicious experiment.
This recipe takes time and focus, but the juice is worth the squeeze. For your dining pleasure, I present Thai Marinated Grilled Pork Chop with Nam Prik Noom and Fish Sauce Caramelized Nectarines. Think that's a mouthful? Just wait until your first bite.
As seen on Beyond the Flame with Robin Chang.
Ingredients
Pork Chop


4 bone-in pork chops, 1 ½ in. thick
2 cups Maggi Seasoning
¼ cup garlic, minced
¼ cup galangal, minced (if unavailable, substitute ginger)
1 Thai chili, minced
½ cup palm sugar (if unavailable, substitute brown sugar)
½ tsp. cinnamon, ground
¼ tsp. cloves, ground
¼ cup cilantro stems, minced
¼ cup grapeseed oil
Nam Prik Noom (Thai Chili Dipping Sauce)


1 Thai chili, minced
5 Kaffir lime leaves, minced
1 green bell pepper
1 jalapeño
½ yellow onion
2 Pasilla chilies, dried
2 chipotle chilies, dried
¼ cup fish sauce
5 cloves garlic
½ cup lime juice
1 tbsp. galangal, chopped
½ cup palm sugar, chopped
½ cup cilantro stems, minced
1 cup cilantro, chopped
Caramelized Nectarines


2 yellow nectarines, pitted (if out of season, substitute frozen peaches)
¼ cup brown sugar
¼ cup fish sauce
Preparation
---
Preparing the Pork Chop
Combine all ingredients in the marinade in a blender and blend on high until smooth.
Place pork chops in a deep baking dish or bowl deep enough to hold marinade.
Pour marinade over pork chops and marinade overnight or for at least 6 hours.
Preparing the Caramelized Nectarines
Slice nectarines into quarters.
Pork Chop Cooking Instructions

a. Remove pork chops from dish and wipe off excess marinade.

b. Place pork chops down on the hottest part of the grill. Grill without moving for 2 minutes. Rotate 180 degrees and leave for another 2 minutes.

c. Flip pork chops and repeat.

d. Once grill marks have been achieved, check internal temperature. You are looking for an internal temperature of 140F which would give you a medium doneness.

e. If pork is under 140F, move to cooler part of the grill until temperature is reached.

f. Remove pork from the grill and allow to rest for 10 minutes before slicing.

Nam Prik Noom Instructions

a. Roast green bell pepper and jalapeno on the grill until skin is completely blackened.

b. Place roasted peppers in a bowl and wrap tightly with plastic wrap. Set aside and allow to steam.

c. Place onion and dried chilies in the oven at 350F. Toast chilies until fragrant and brittle. Roast onion until lightly charred on the outside. Remove stems and seeds from dried chilies.

d. Peel skins off roasted bell pepper and jalapeno but leave a little bit of the burnt skin. The burnt skin adds flavor and smokiness.

e. In a food processor combine Thai chili, galangal, palm sugar, garlic and onion. Blend until completely minced and almost a paste. Crumble dried chilies into the food processor and blend until incorporated.

f. Add roasted green bell pepper and jalapeno along with fish sauce to food processor. Pulse until lightly blended in. You want larger chunks and strands of the roasted peppers throughout the sauce.

g. Remove sauce from the food processor into a mixing bowl. Add lime juice, minced kaffir lime leaves, cilantro stems and chopped cilantro. Mix everything together with a spoon or spatula until incorporated.

h. Taste. Add more fish sauce if it needs more salt and add more sugar if it is too spicy.

i. This can be made up to a week in advance. Store in the freezer for up to a month. To use, warm up in a pot.



Caramelized Nectarines Cooking Instructions
a. Heat a pan on medium-high heat. Add brown sugar and fish sauce to the pan. Swirl pan around to coat all of the sugar in the fish sauce. Turn heat to medium.

b. When sugar has melted, add yellow nectarines.

c. Cook until sauce has thickened and glazes the nectarines.

d. To plate the dish, spoon a thin layer of the nam prik noom in the center of the plate and spread around in a circular motion.

e. Place either whole pork chop or sliced pork chop on top of the sauce.

f. Spoon more nam prik noom over the top of the pork.

g. Place two slices of the nectarines over the pork and finish with herb garnishes: 2 mint leaves per plate, 2 Thai basil leaves per plate and 4 cilantro leaves per place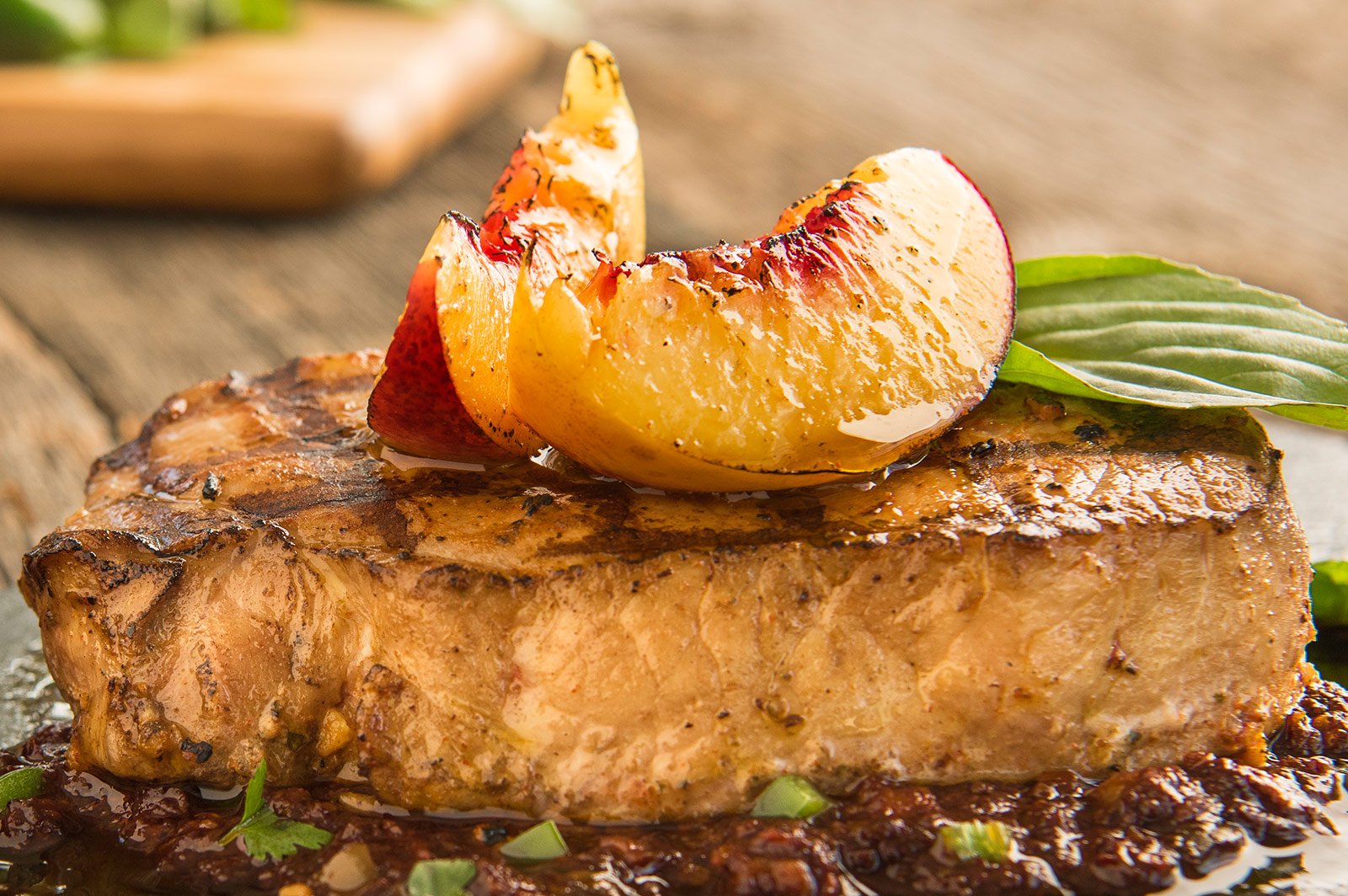 Try Pairing It With These Other Recipes
---