chicken
Peanut Butter & Jelly Chicken Lollipops
---
Behind the recipe
It Was My Little Girl's First Tailgate
My husband and I are diehard Vols football fans. We met freshman year at the '93 Citrus Bowl, and we've been bleeding orange & white every Saturday since. A few seasons ago, we brought our firstborn to her first tailgate at Neyland Stadium, hoping to spark the same passion in her. Long story short, she cried the whole time.
To be fair, a hundred thousand screaming fans probably wasn't the right environment for a 7-year old. So the next Saturday (I think it was against Vandy), we found a compromise. Like most kids, my daughter loves a good PB&J, and like most men, my husband loves his chicken drumsticks. Combining the two might sound crazy, but the sweet and savory combo worked out brilliantly, and she settled in like a long-time fan. Funny how a little recipe can bring people together.
Ingredients
¾ cup peanut butter
¾ cup raspberry preserves
2 tbsp. Sriracha
2 tbsp. soy sauce
2 tbsp. water
1 tsp. garlic, minced
1 tsp. ginger, grated
30 drumsticks
3 tbsp. all-purpose flour
1 ½ tbsp. cornstarch
1 tbsp. baking powder
½ cup peanuts, finely chopped
½ cup cilantro, finely chopped
Preparation
---
1. To lollipop your drumsticks, start by cutting through the skin and tendons where the thick, meaty section ends. Pull the skin off the bone part, and throw it away. Clean up any remains so you get a nice, clean handle. (It helps to use a cutting board, so you can twirl and slice the drumstick at once.)
2. Push the flesh downward away from the bone to form a rounder, more lollipopish shape.
3. For the wing sauce, combine peanut butter, raspberry preserves, Sriracha, soy sauce, water, garlic, and ginger in a large saucepan, and place on your Nexgrill.
4. Whisk the ingredients over medium-high heat until smooth, and set aside.
5. In a large bowl, combine flour, cornstarch and baking powder.
6. Dip your lollipops in the peanut butter mixture until the meaty part is evenly coated.
Preheat your Nexgrill to medium/medium-high heat.

Spread your lollipops out on the grill, and cook, turning occasionally, for about an hour, or until the internal temperature reaches 175-185 degrees Fahrenheit.

Remove from heat and let cool for five minutes.

Toss your pops in the wing sauce you made, then garnish with the chopped peanuts and cilantro.

Dig in.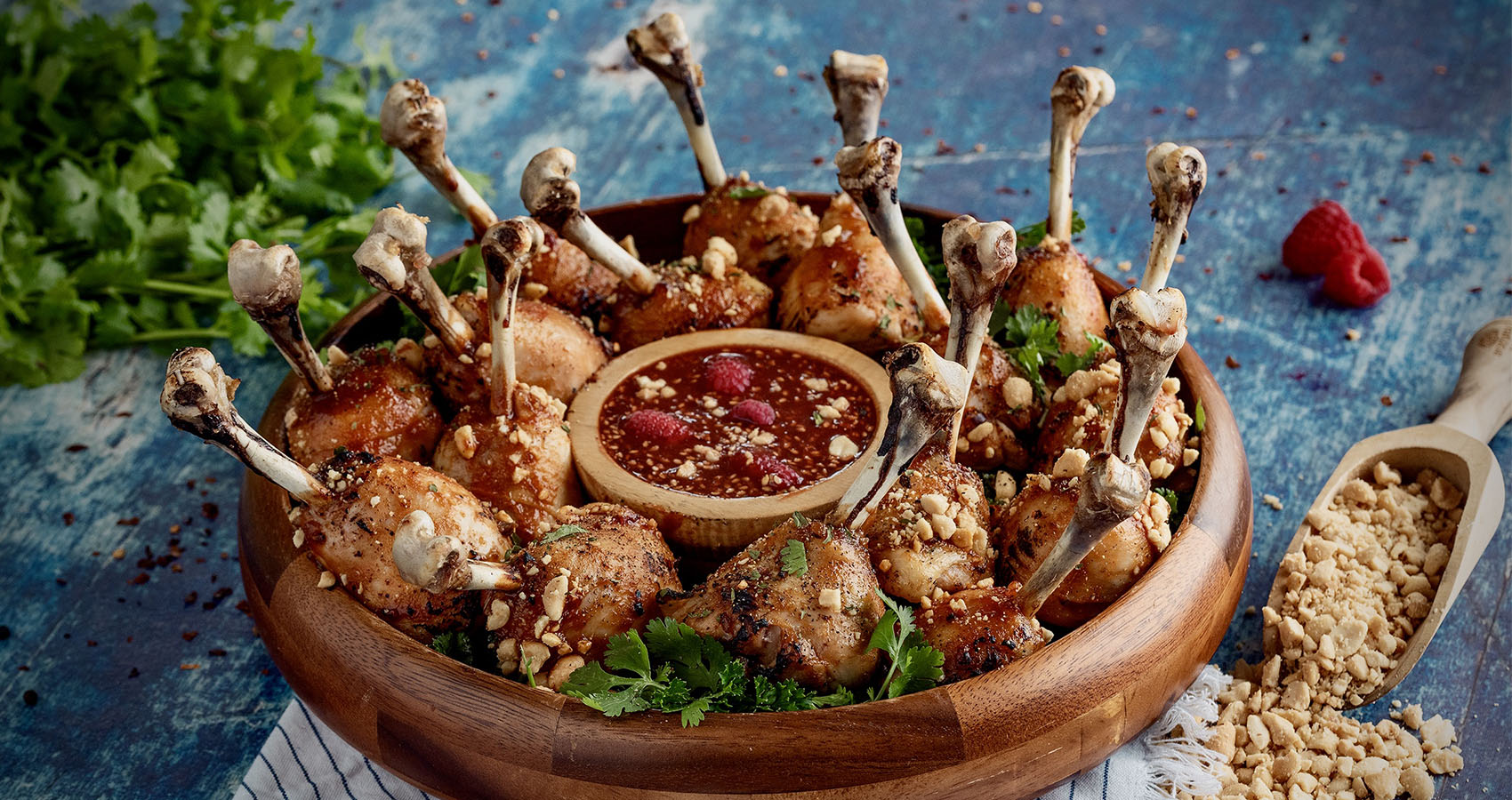 Let's Be Friends!
If you don't already, follow us on social media and fill us in on all your grilling adventures using #Everyonesinvited. We promise to keep you up to date with all our latest grill tips, stories, recipes, and more – everything you need to stay satisfied between cookouts.
Try Pairing It With These Other Recipes
---